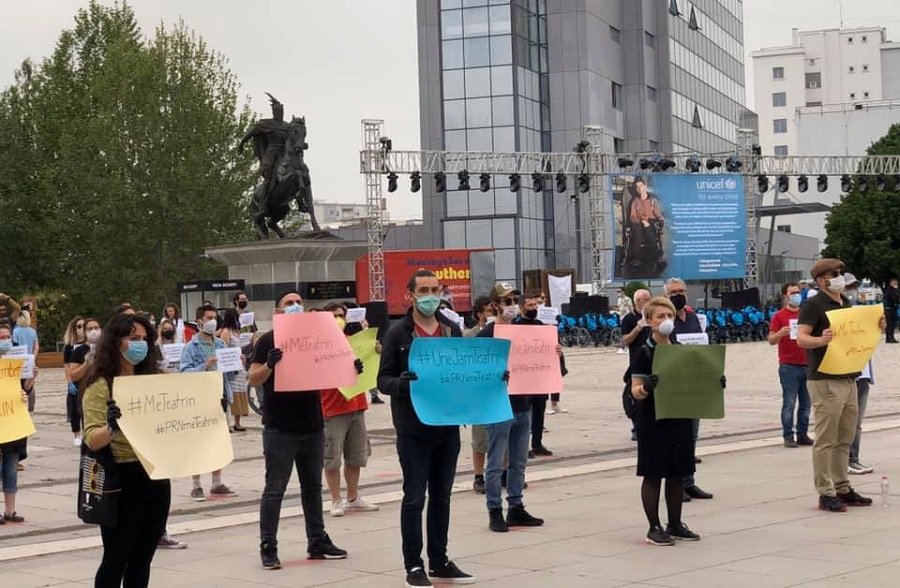 May 17, 2020
Artpolis in cooperation with other organizations, artist and activists, organized a symbolic action in solidarity with #MeTeatrin.
In an unprecedented act, the Albanian Government in collaboration with the City of Tirana, demolished the historic building of the Albanian National Theater earlier today. The bandit-like action was accompanied with violence exercised against artists and activists who have been defending the theater for almost 3 years now. Dozens of activists and artists, including journalists, were arrested and sent to the police station in the early morning hours.
In March 2020, the National Theater building in Tirana was listed amongst the seven most endangered buildings in Europe by Europa Nostra – one of the largest organizations for the protection of cultural heritage in Europe. Earlier, the Alliance for the Protection of the Theater called for a protest in Tirana, while hundreds of citizens had gathered in the area around the Theater. "In solidarity with their three-year effort, today at 5 pm we will gather in front of the National Theater of Kosovo, to express our indignation with this unmatched arrogance and our opposition to the action of the Albanian Government and the City of Tirana. We invite all who share the same conviction to join us today in front of the Kosovo National Theater, while respecting the recommendations of the Public Health Institute (IKSHPK) and the decisions of the Ministry of Health with regard to preventive measures against COVID-19. We kindly request you equip yourself with masks and gloves, and maintain a distance of at least 2 meters from other participants in the symbolic action. To maintain the recommended distance, we kindly ask you to position yourself on the red dots drawn in the square in front of the Theater" was the public call for everyone.
You may also like