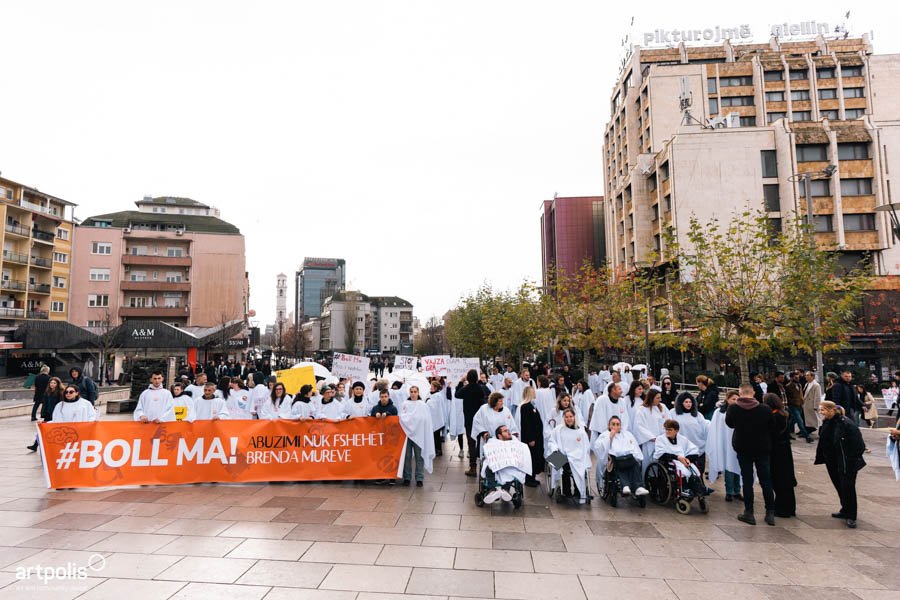 08.12.2022
Girls, women and men today marched together in the squares of Prishtina, to say "Enough!" to abuse and killing of women and girls.
Members of different organizations of people with different abilities from Prishtina, Peja, Suhareka, Drenasi and Ferizaj gathered for the first time in a march calling against the abuse of women with disabilities.

"Today we say "Enough! Abuse Cannot Be Hidden Inside the Walls". Today we say #Enough! To sexual, physical, emotional and economic abuse of women and girls with disabilities", said Resmije Rahmani from Prizren reading the statement in front of the media.
"Enough!…" was a call to stop abuse against women inside and outside the walls, in public and private spaces. Non-reporting, silence and concealment of cases reproduces the structures of patriarchy.

"Enough!…" aims to be the voice of the revolt that seeks to challenge and condemn misogyny, racism, sexism, discrimination, abuse, and violence in all its forms.
"Enough!…" silence is not a solution. Out of 2273 cases of domestic violence this year, 1897 cases are against women and girls.
"Therefore, we must report the violence, and the institutions must fight it. Reporting and fighting such phenomena brings us closer to social and gender equality. Only together we are closer to social and gender equality", said Rahmani.
Enough!
This activity was organized by Artpolis, supported by the program of the Kosovo Foundation for Civil Society (KCSF) 'EJA Kosovo', co-financed by the Swiss Agency for Development and Cooperation (SDC), Sweden and the Government of the Grand Duchy of Luxembourg.
General Sponsor Buçaj SH.P.K
#artpolis #unite #16DaysOfActivism #art #activism #womenrights #gjakove #peja #prishtina
You may also like