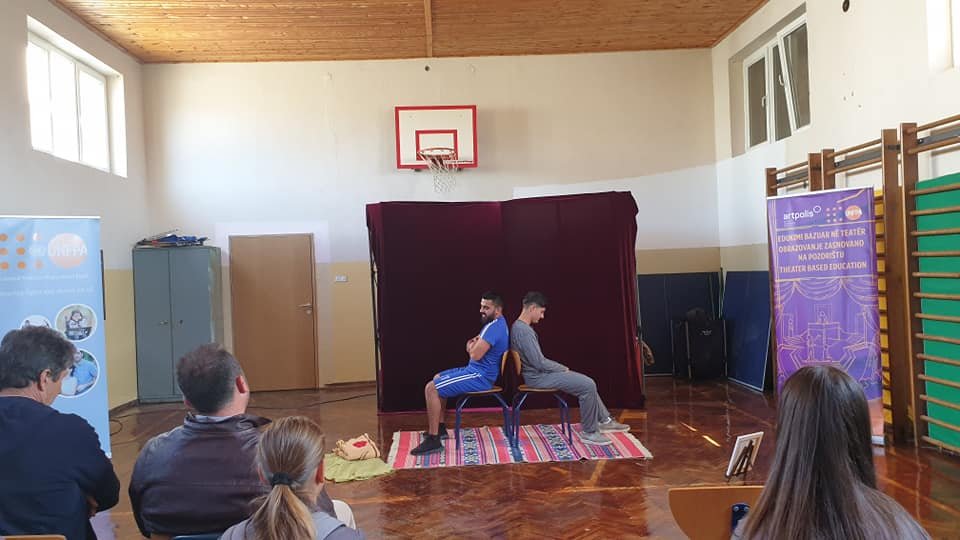 20.09.2019, Gjakovë
As a true professional troop some young actors with enthusiasm and professionalism performed in different scenes throughout Kosovo. Their engagement and acting is a product of the training "Theater Based Education" organized by Art and Community Center – Artpolis.
"How do you feel when you have to work for a job that you don't like"? "Why you always liked soccer? Don't you have any other career orientation for the future"?, "Why do you confuse patients with consumers, does this happen to you often"? – were some of the questions from the spectators after the wonderful performance of the youngsters, this time at "Zef Lush Marku" Elementary School in Brekoc/Gjakova on 20th of September, 2019.
"Lea, Diana, Onati, Dreni and Rinor are 5 young people who tell their stories showing their dissatisfaction regarding their daily jobs. Only one of them really does the job he likes, pointing out the harsh reality of a large number of young people in Kosovo. But, despite the challenges, they all showed us that if we truly want something we should never stop chasing our dreams and keep them alive."
The performance aims to empower young people by giving special emphasis on career orientation, raising awareness on the importance of choosing a career and developing the necessary skills to fulfill their professional aspirations.
Actresses/Actors: Linda Hyseni, Semra Keriq, Ibrahim Berisha, Leotrim Berisha, Muhamet Ademi.
Moderator: Diellza Bezera
This activity has been supported by UNFPA Kosovo while realized and organized by Artpolis – Art and Community.
You may also like