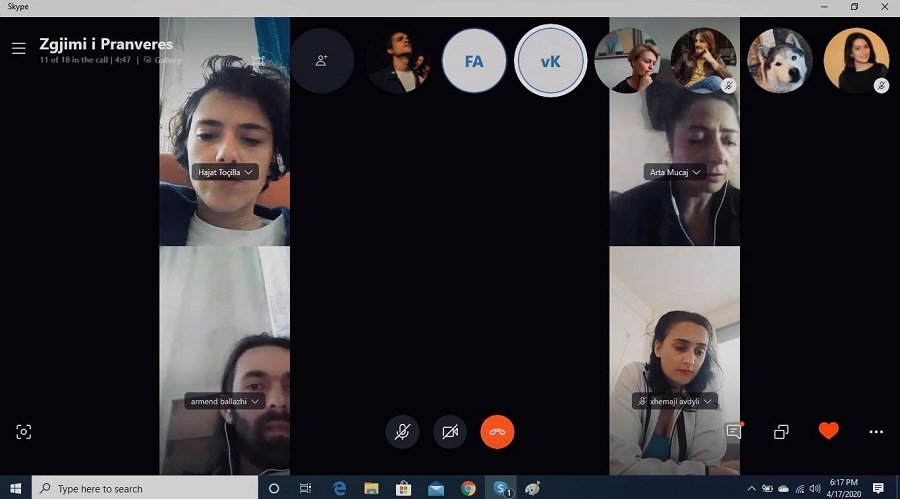 06.04.2020 / 17.04.2020
A few days before the premiere of the play "Spring awakening" in National Theater, in order to respect the protective measures against pandemic Covid-19, Art and Community Center – Artpolis stopped the rehearsals and the whole theater troupe left the theater premises.
Thus, the beautiful emotions that we eagerly awaited to enjoy at the National Theater, we had to postpone indefinitely.
But even though almost everything stopped, Artpolis found ways and adapted the modalities to the new working conditions – activities from distance. Theatrical troupes reunited to continue rehearsals and work remotely with each other. Everyone was happy to be enjoying the lyrics of the show again and the lyrics of the songs, even if only through digital communication platforms.
These two rehearsals were quite productive while the troupe of actors together with the director of the play Zana Hoxha and the choreographer Robert Nuha wished this situation to pass as soon as possible and all to return to normal.
Author: Frank Wedekind
Director and adaption: Zana Hoxha
Actors: Hajat Toçilla, Valmir Krasniqi, Arta Muçaj, Shkelzen Veseli, Labinot Raci, Qëndresa Loki, Verona Koxha, Flamur Ahmeti, Armend Ballazhi.
Music: Alzan Gashi
Choreography: Robert Nuha; Ass.director: Arlinda Morina, Costumes: Youliana Voykova – Najman.
Lights: Skender Latifi
Production: Artpolis – Art and Community Center
Design and illustrations: Vanja Lazić
You may also like