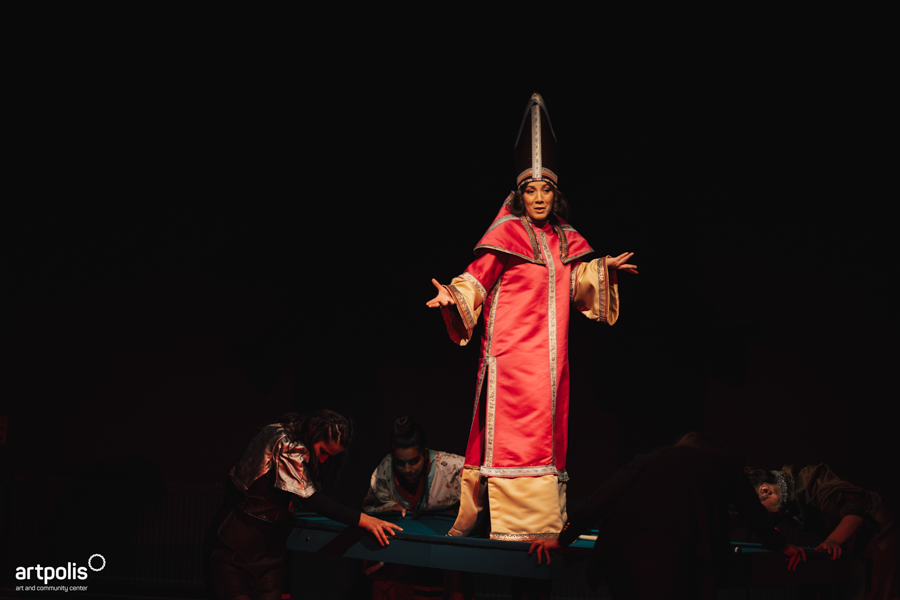 18.10.2022
At the Dodona Theater in Prishtina, October 18, 2022, the premiere of the theatrical performance "Top Girls" directed by Shkurtë Aliu was presented. "Top Girls" came in a modern version, as a co-production of Artpolis – Art and Community Center with the Prishtina City Theater "Dodona".
Marlena, a successful London businesswoman who last night celebrated her promotion at work, organized a dinner, her guests were not friends, family members or colleagues; however, they were women plucked from history, art, and mythology, women from medieval Europe, nineteenth-century England, and thirteenth-century Japan, as well as women who were the subjects of famous paintings and stories composed by men, of which showed how patriarchy has affected – and often destroyed – women's lives throughout history.
Among them were Izabela, a writer, explorer and naturalist of the nineteenth century; Lady Nixho, a thirteenth-century concubine who became a wandering Buddhist nun; Greta, subject of a Flemish Renaissance painting by Pieter Brueghel the Elder; Pope Joanna, a woman who disguised herself as a man and was appointed Pope in the Middle Ages; and Griselda, a character from the stories of Boccaccio and Chaucer, whose obedience to her husband in the face of terrible abuse made her a legend.
By: Caryl Churchill
Directed by: Short Aliu
Cast: Donike Ahmeti, Vjosë Tasholli, Molike Maxhuni, Zhaneta Xhemajli, Zana Berisha, Blerta Gubetini
Scenography: Bekim Korça
Costumes: Arbnor Brahimi
Music: Trimor Dhomi
Choreography: Robert Nuha
Lighting design: Skender Latifi
Stage technicians: Albert Gashi, Bedri Maloku, Fadil Bekteshi
Production assistant: Elira Lluka
Makeup artist: Flora Hasani, Myrvete Tahiri
"Top Girls" was organized within the project "HumanRightivism" implemented by the Community Development Fund – CDF, supported by the Embassy of Sweden in Prishtina.
#artpolis #SwedishEmbassy #CDF #humanrightivism #theatreperfromance #topgirls
You may also like