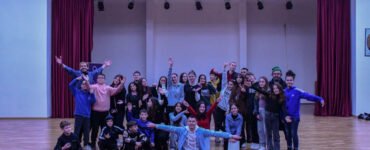 23.02.2023
Artpolis is continuing this year with the expansion of the collaboration with young men and women through the training "Theater based education".
On February 23, 2023, Artpolis established the Theater Club in Obiliq, in close cooperation with the Directorate for Culture, and the educational and cultural institutions of this city.
The actors of the Artpolis Resident Artistic Troupe, Shpëtim Selmani and Mikel Markaj, will work with the young men and women of Obiliq for more than two months, to bring a forum theater performance in front of the audience.
In the first meeting held at the "Xhavit Haziri" House of Culture, some of the potential topics that can be addressed in the performance were discussed.
This activity is supported by cfd, and is carried out by Artpolis – Art and Community Center in
cooperation with the City Theatre of Obiliq.
#artpolis #art #community #have #fun #training #forumtheatre #actors #performance #club #cfd
You may also like