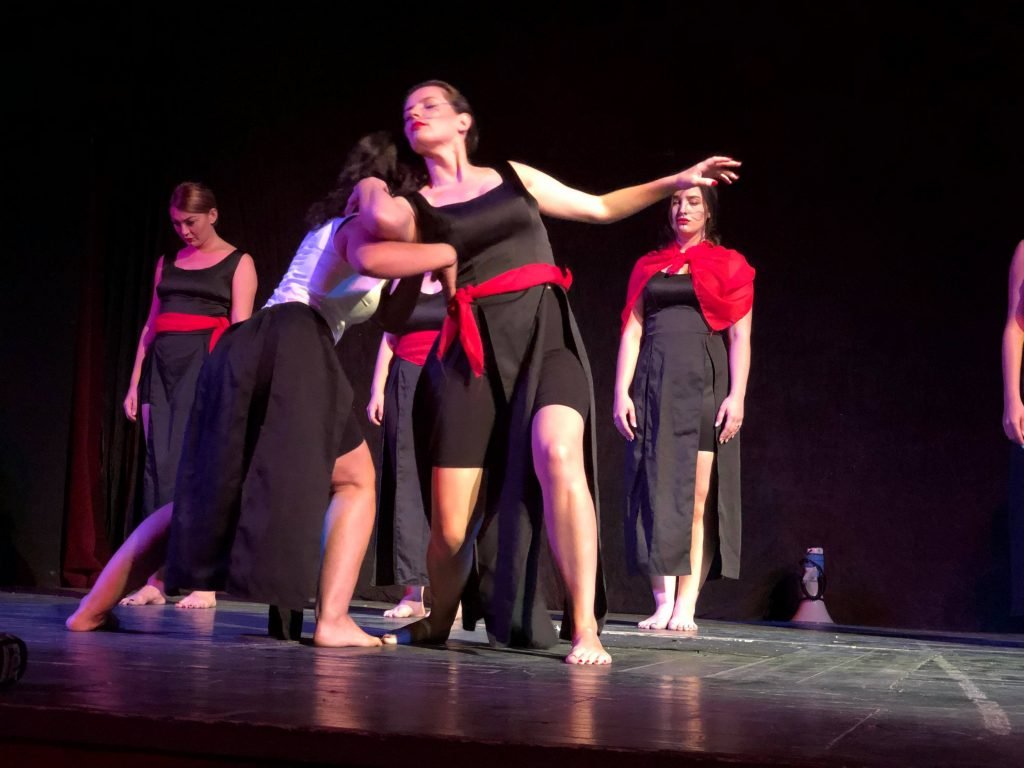 07.08.2019
In solidarity with the 𝐍𝐚𝐭𝐢𝐨𝐧𝐚𝐥 𝐓𝐡𝐞𝐚𝐭𝐞𝐫 𝐨𝐟 𝐓𝐢𝐫𝐚𝐧𝐚, artistic community and Tirana art lovers, on Thursday – August 7th within the framework of the Theater Protection Festival, at the National Theater in Tirana at 𝟐𝟎:𝟑𝟎, 𝐀𝐫𝐭 𝐚𝐧𝐝 𝐂𝐨𝐦𝐦𝐮𝐧𝐢𝐭𝐲 𝐂𝐞𝐧𝐭𝐞𝐫 – 𝐀𝐫𝐭𝐩𝐨𝐥𝐢𝐬 presents the experimental performance "𝐖𝐨𝐦𝐚𝐧'𝐬 𝐊𝐚𝐧𝐮𝐧".
The performance was welcomed, applauded and was followed with great interest by the Tirana public.
"'Woman's Kanun' has been an amazing show for me, very interesting, and powerful. Kept very strong roots of the nation and addressed the role of women in terms of Lekë Dukagjini Kanun. It has been something very controversial and emotional. Even today, in our modern world, we are faced with a lack of women's rights, with harassment against women. So it's never too late to reflect, in such a strong, artistic way, on this issue? – Deputy Ambassador of OSBE Robert Wilton said during his interview for Fax News.
The performance "Women's Kanun" is an emotional play based on stage movement, singing and conversation, interpreted by professional actresses. It is focused on women's life stages, emphasizing the impact on the environment on their expectations about life, prejudices, assessment and abuses. Kosovar society, in particular women and girls, are 'affected' by the norms of patriarchal society that prevail in Kosovo to this day, which are oppressors of human rights, in particularly the Albanian women in Kosovo. Kanagjegji (from Turkish: the henna night is the play through which actresses by singing, dancing, weeping and laughing and in the end revolted, treat the Kanun.
"𝑇𝑜 𝑏𝑒 𝑎 𝑏𝑟𝑖𝑑𝑒 𝑚𝑒𝑎𝑛𝑠 𝑎𝑙𝑙 𝑡ℎ𝑒 𝑔𝑢𝑖𝑙𝑡 𝑜𝑓 𝑡ℎ𝑒 𝑤𝑜𝑟𝑙𝑑 𝑖𝑠 𝑦𝑜𝑢𝑟𝑠.
𝑇𝑜 𝑏𝑒 𝑎 𝑏𝑟𝑖𝑑𝑒 𝑖𝑠 𝑡𝑜 𝑠𝑢𝑓𝑓𝑒𝑟 𝑖𝑛 𝑠𝑖𝑙𝑒𝑛𝑐𝑒.
𝑀𝑎𝑟𝑟𝑦𝑖𝑛𝑔 𝑏𝑦 𝑐𝑎𝑛𝑜𝑛, 𝑎𝑑𝑑𝑖𝑛𝑔 ℎ𝑜𝑚𝑒 𝑜𝑛𝑒 𝑚𝑜𝑟𝑒 𝑠𝑙𝑎𝑣𝑒 𝑓𝑜𝑟 𝑤𝑜𝑟𝑘 𝑙𝑎𝑏𝑜𝑟 𝑎𝑛𝑑 𝑟𝑒𝑝𝑟𝑜𝑑𝑢𝑐𝑡𝑖𝑜𝑛 – 𝑓𝑎𝑚𝑖𝑙𝑦 𝑔𝑟𝑜𝑤𝑡ℎ.
𝑇𝑜 𝑏𝑒 𝑎 𝑏𝑟𝑖𝑑𝑒 𝑚𝑒𝑎𝑛𝑠 𝑏𝑢𝑟𝑦𝑖𝑛𝑔 𝑎𝑙𝑙 𝑦𝑜𝑢𝑟 𝑓𝑒𝑒𝑙𝑖𝑛𝑔𝑠 𝑎𝑛𝑑 𝑡ℎ𝑜𝑢𝑔ℎ𝑡𝑠.
𝑇𝑜 𝑏𝑒 𝑎 𝑏𝑟𝑖𝑑𝑒 𝑚𝑒𝑎𝑛𝑠 𝑦𝑜𝑢 𝑑𝑜𝑛'𝑡 𝑔𝑖𝑣𝑒 𝑎𝑛𝑦 𝑜𝑝𝑖𝑛𝑖𝑜𝑛 𝑖𝑛 ℎ𝑜𝑚𝑒 𝑎𝑓𝑓𝑎𝑖𝑟𝑠.
𝐴 𝐺𝑜𝑜𝑑 𝑏𝑟𝑖𝑑𝑒 𝑑𝑜𝑒𝑠 𝑤ℎ𝑎𝑡 𝑠ℎ𝑒 𝑖𝑠 𝑡𝑜𝑙𝑑, 𝑔𝑜𝑒𝑠 𝑤ℎ𝑒𝑟𝑒 𝑠ℎ𝑒 𝑖𝑠 𝑡𝑜𝑙𝑑, 𝑙𝑖𝑣𝑒𝑠 ℎ𝑜𝑤 𝑠ℎ𝑒 𝑖𝑠 𝑡𝑜𝑙𝑑."
Director: Arlinda Morina – Assistant director: Labinot Raci
Actresses: Arta Lahu, Kaltrinë Zeneli, Molikë Maxhuni, Qëndresa Kajtazi, Qëndresa Loki, Rajmonda Ahmetaj,
Daniela Markaj, Vjosa Abazi.
"Woman's Kanun", it's first premiere was given during the FemArt festival, which this year marked the 7th edition on June 10 – 16, 2019 with the motto "Freedom vs Shame".
You may also like