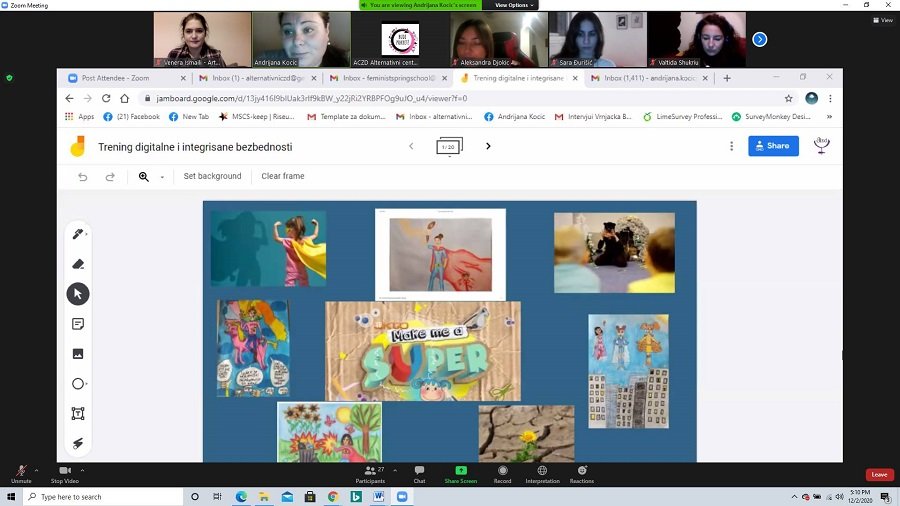 01 – 03.12.2020

From 01 – 03 December 2020 the second part of the spring feminist school was held for Kosovo and Serbia. Unlike previous years when Kosovo girls traveled to Serbia, as a result of Covid-19 this part was only held online, remotely, as a protective measure due to the deteriorating pandemic situation in the region.
For three days in a row, the girls from Kosovo and Serbia, virtually came together to listen to the lectures of wonderful speakers, which managed to keep the interest of the participants until the last minutes of the sessions. Although from a distance the young women – participants were quite interactive looking for information, working in groups and asking very essential questions for the lecturers.
Anita Pantelić, Marijana Stojčić, Marijana Toma and Ajna Jusić were the lecturers who discussed topics such as: "History of women's position and organizing in the second half of the 20th century in the former Yugoslavia"; "Feminist Approach to Justice: UN Security Council Resolution 1325 and Women's Court"; "Mechanisms of Transitional Justice"; "Forgotten Children of War" dedicated to children born after their mothers survived sexual violence during the last wars in Bosnia and Herzegovina.
The third day session closed with a summarizing impressions, evaluation by the participants who were extremely satisfied with the information exchanged during these 3 days and with the hope that soon this group will meet physically, as promised by the organizers of FSS from Serbia.
A special thanks to the organizers from Alternative Girls' Centre from Serbia, for their professional work that this meeting went well and the technical obstacles were easily overcome.
The project "Young Women Build Peace in Kosovo and Serbia" is implemented in cooperation with Artpolis-Art and Community Center and the "Alternativni centar za devojke" while supported by the European Union in Kosovo and foundation Kvinna till Kvinna.
——
Feministička prolećna škola 2020. – Virtuelno u drugom delu
01 – 03. 12.2020.
Od 1. do 3. decembra 2020. godine održan je drugi deo Feminističke prolećne škole za Kosovo i Srbiju. Za razliku od prethodnih godina kada su devojke sa Kosova putovale u Srbiju, zbog situacije sa Covid-19 ovaj deo je održan online kao mera zaštite zbog pogoršanja pandemijske situacije u regionu.
Tri dana zaredom, devojke sa Kosova i iz Srbije, virtuelno su se okupljale da slušaju predavanja divnih govornica, koje su uspele da zadrže interesovanje učesnica do poslednjih minuta sesija. Iako "na daljinu", mlade žene – učesnice škole bile su prilično interaktivne u potrazi za informacijama, radeći u grupama i postavljajući vrlo bitna pitanja.
Predavačice Anita Pantelić, Marijana Stojčić, Marijana Toma i Ajna Jusić razgovarale su sa učesnicama škole o sledećim temama: "Istorija položaja i organizovanja žena u drugoj polovini 20. veka u bivšoj Jugoslaviji"; "Feministički pristup pravdi: Rezolucija Saveta bezbednosti UN 1325 i Ženski sud", "Mehanizmi tranzicione pravde" i "Zaboravljena deca rata", posvećena deci rođenoj nakon što su njihove majke preživele seksualno nasilje tokom poslednjih ratova, u Bosni i Hercegovini.
Treći dan sesije završen je rezimiranjem utisaka i evaluacijom učesnica koje su bile izuzetno zadovoljne informacijama razmenjenim tokom ova tri dana i sa nadom da će se uskoro ova grupa i fizički sastati, kao što su obećale organizatorke FSS iz Srbije.
Posebna zahvalnost organizatorkama iz "Alternativnog centra za devojke" iz Srbije, za njihov profesionalni rad što je ovaj sastanak protekao dobro i što su tehničke prepreke lako prevaziđene.
Projekat "Mlade žene grade mir na Kosovu i u Srbiji" sprovodi se u saradnji "Artpolis – Centar za umetnost i zajednicu" i "Alternativnog centra za devojke", uz podršku Evropske unije na Kosovu i fondacije Kvinna till Kvinna.
#FSS#FeministSpringSchool#ShkollaPranveroreFeministe#FeminističkaProlećnaškola#YoungWomenBuildPeace2020#EU#KCR#Artpolis
#AlternativniCentarZaDevojke
You may also like