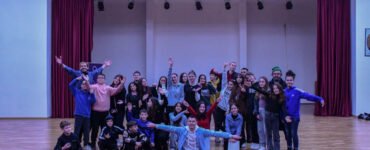 21.02.2023
On February 21, 2023, Artpolis established the Theater Club in cooperation with the local organization Handikos.
The artists of the Artistic Resident Troupe of Artpolis, Robert Nuha, Kaltrina Zeneli, and Edlir Gashi will work together with the members of Handikos for more than two months to bring to present the forum theater performance in front of the audience.
The process of creating the performance and its presentation will be a very good space for people with disabilities to express their concerns, but also their creativity.
In the first session that was held in Handikos, some of the potential themes to address in the play has been discussed.
This activity is supported by cfd, and is organized by Artpolis – Art and Community Center in cooperation with Handikos.
#artpolis #art #community #have #fun #training #forumtheatre #actors #performance #club #cfd #handikos
You may also like