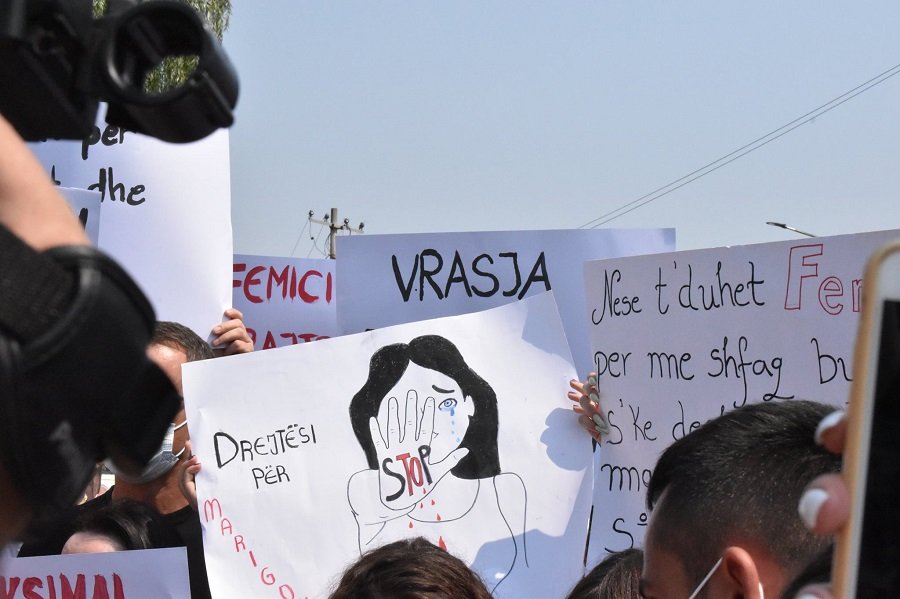 24.08.2021
"Justice for murdered women" and "Justice for Marigona" were just two of the many slogans that women, men, girls and boys held in their hands during today's protest in Ferizaj, in which case they demanded justice for the murder of an 18-year-old girl and the deserved sentence for her killers.
With protests in front of the Police Station, the Basic Prosecution, and the Basic Court in Ferizaj, the activists raised their voices against the murders and violence on the basis of gender that are unacceptable and should be treated with priority by the justice institutions.
Women and girls deserve a safe and fearless space and life, which is achieved when the murderers and rapists receive the punishment they deserve. "No one else", "Murder of women is political", "Do not normalize the murder of women", "Enough already", "Stop Femicide", "Police have blood on their hands", "Government do not close your eyes", were some of the main slogans in the protest organized by the Kosovo Women's Network, Artpolis, the Kosovar Center for Gender Studies, as well as the Youth Assembly of Ferizaj
.This protest, among others, had four demands:
1. Addressing the phenomenon of femicide as foreseen by the Istanbul Convention for which all our deputies voted;
2. Maximum punishment for murderers;
3. Security for girls and women in all areas;
4. Fair treatment of gender-based violence against women by the Government of the Republic of Kosovo.
You may also like