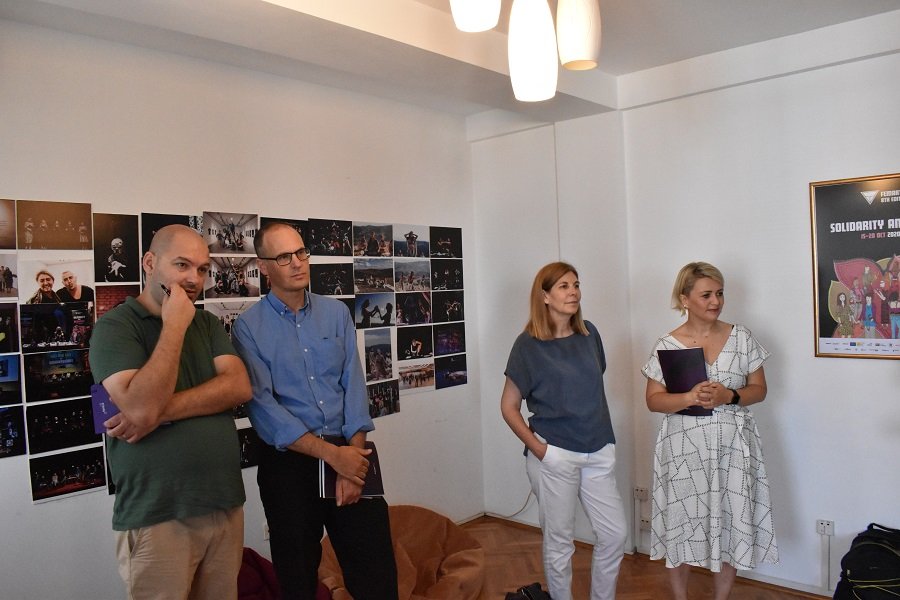 24.06.2021
Representatives of KCSF, SDC and SIDA on the morning of Thursday, June 24, visited the offices of Artpolis – Art and Community Center, where they were closely informed about the activities that have been carried out and those that are being developed within the EJA Kosovo program.
In this meeting, the executive director of the Artpolis Center, Zana Hoxha, the project manager, Venera Ismaili, and the rest of the staff shared their experiences regarding the implementation of the EJA program, starting from: co-building the feminist movement in Kosovo, raising NGO capacities and the creation of the MULTITON networking, trainings, workshops, theater performances, and other activities that are realized using art and culture as tools for achieving the goals.
EJA Kosovo, which is a KCSF program, co-financed by SDC and SIDA, through multiannual institutional grants, supports organizations that are already consolidated and have clear strategies for their work.
During this visit, donors had the opportunity to closely see parts of the stage reading "Games in the Backyard", directed by Zana Hoxha, which will be shown to the public tomorrow in the City Park in Pristina from 20:00.
Part of this visit to the Artpolis Center were the Executive Director of KCSF, Taulant Hoxha, the Director of the Grant Program at KCSF, Fatmir Curri, the Director of the Swiss Cooperation Office – SDC, Katharina Stocker, and the Third Secretary, Manager of the Public Administration Reform, Human Rights, and Democracy Program at AIDS, Erik Pettersson.
You may also like