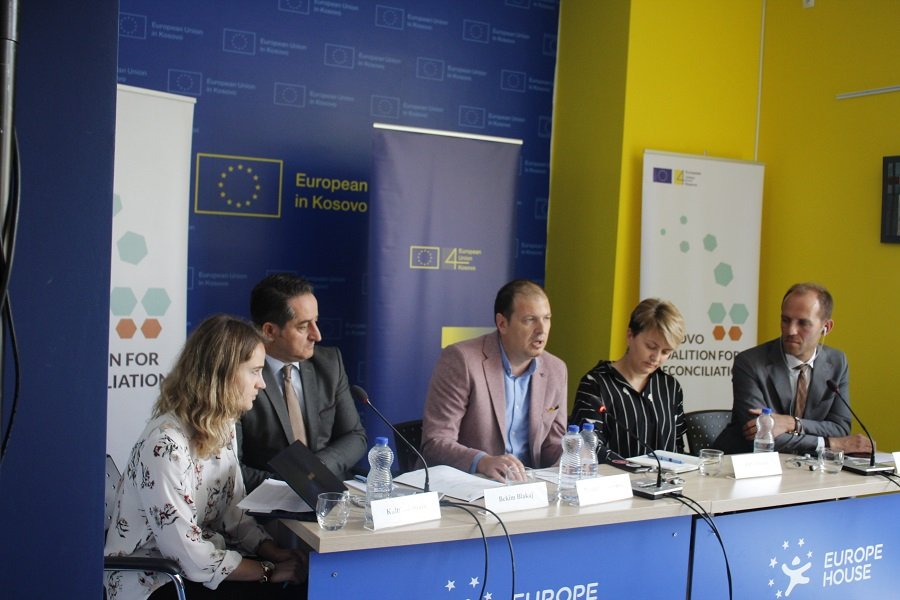 11.07.2019
On 11th of July, 2019 at the Europe House in Pristina the Kosovo Coalition for Reconciliation – KCR officially launched, which consists of four organizations: "Humanitarian Law Centre Kosovo"/Prishtina, "Artpolis"/Prishtina, "Aktiv"/North Mitrovica and "Documenta"/Zagreb. This coalition was created within the project "Transforming conflicting perceptions through increased civic and community engagement in Kosovo" supported by the European Union.
Kosovo's citizens, even 20 years after the war, still have a lot of concerns and worries, questions that never get answered, insecurity, lack of proper welfare for all communities living in Kosovo.
The coalition aims to engage the community while dealing with the past, present and the future towards reconciliation and promotion of cultural diversity in Kosovo.
"Reconciliation between different communities living in Kosovo should happen by building a common future within Kosovo" said among other things by one of the founders of this coalition. During the opening of the conference, Stergios Tragoudas of the EU office in Kosovo, said that the process of reconciliation is very challenging, but we have to learn from good practices of EU countries and the way they have dealt with such problems. Furthermore, he noted the importance of reconciliation for the European Union by stating that other EU countries have overcome this issue by cooperating with the citizens and government institutions.
At the launching conference of the Kosovo Coalition for Reconciliation, in addition to the EU official, Stergios Tragoudas, in front of the media and other participants at the conference also spoke: Bekim Blakaj – executive director of the Humanitarian Law Center Kosovo, Zana Hoxha – founder and director of NGO Artpolis and Miodrag Milićević – Executive Director of NGO – Aktiv, moderated by Kaltrina Shala – Project Manager.
"We must document the past and the fact that such a large number of people went missing during the war, because people need to know these things", Blakaj said.
Miodrag Milicevic, director of the non-governmental organization "Aktiv" from North Mitrovica, said that for all ethnic communities in Kosovo it is important enhancement of quality of life, equal rights and respect for all communities.
Meanwhile, Zana Hoxha, director of "Artpolis" emphasized that above mentioned organizations had previously worked together so this cooperation has a natural course. "This cooperation is not only a project but a mission; it is a job that we will do within our own strategies, our development for the benefit of all communities living in Kosovo, for a better Kosovo and not for a divided one by ethnic communities, for the one that creates space for everyone to enjoy all the rights, including all communities living in Kosovo, "said Hoxha.
This launching conference was followed with a panel discussion "Reconciliation in Kosovo:   Past, Present and Future – Discussion about the process of reconciliation in Kosovo, challenges and opportunities from the perspective of Media and Arts. Panelists were representatives of media, arts and academia: Adriatik Kelmendi – journalist, Besa Luci – journalist, Edis Galushi – journalist, Darko Dimitrijević – journalist, Alban Muja – artist.
They all gave their point of view and examples of journalistic and artistic work, pointing out the differences and similarities of problem handling from different media in Kosovo and Serbia.
You may also like