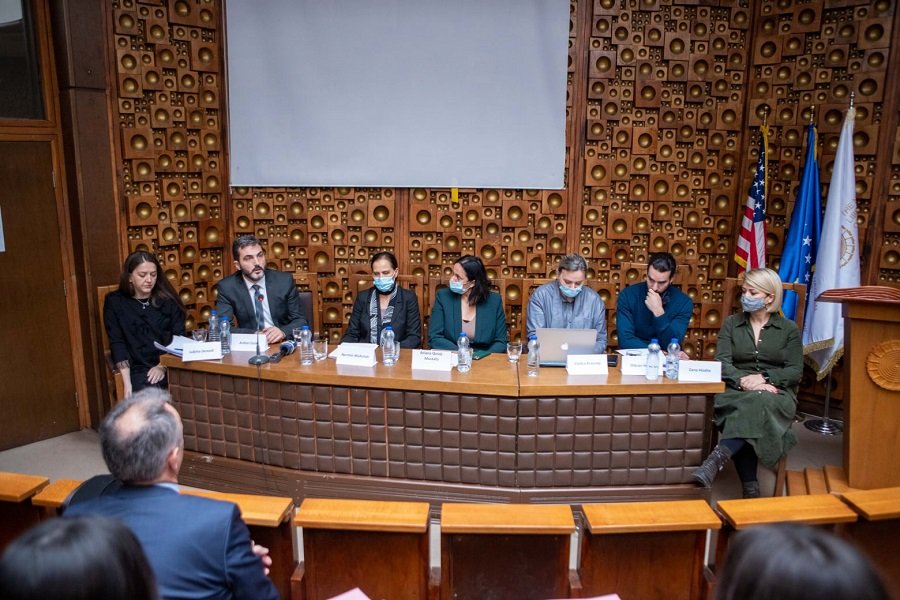 10.12.2021
In the framework of "16 Days of Activism" today in the National Library of Kosovo was held the discussion panel "Regulation Against Sexual Harassment in UP approved. How to move forward in 2022?"
The panel was opened and moderated by Ariana Qosaj-Mustafa, Chair of the Board of the Kosovo Women's Network (KWN), and Naser Sahiti, Rector of the University of Prishtina, gave the welcome speech.
The students of the University of Prishtina discussed about the regulation and how to move forward, how to act in 2022 in addressing, preventing and combating sexual harassment within UP together with the panelists:
– Ardian Gola, Chairman of the Committee on Education, Science, Technology, Innovation, Culture and Sports
– Nermin Mahmuti, Executive Director of the Community Development Fund
– Zana Hoxha, Founder / Director of Artpolis and FemArt Festival
– Luljeta Demolli, Executive Director at the Kosovo Gender Studies Center.
– Vjollca Krasniqi, Professor of Sociology and Co-Chair of the Center for Gender Studies and Research, UP
– Dibran Hoxha, Coordinator of activities in ORCA, Organization for Quality Enhancement in Education
This activity is organized by Artpolis within the project "Humanrightivism" implemented by the Community Development Fund – CDF and supported by the Embassy of Sweden in Pristina.
You may also like