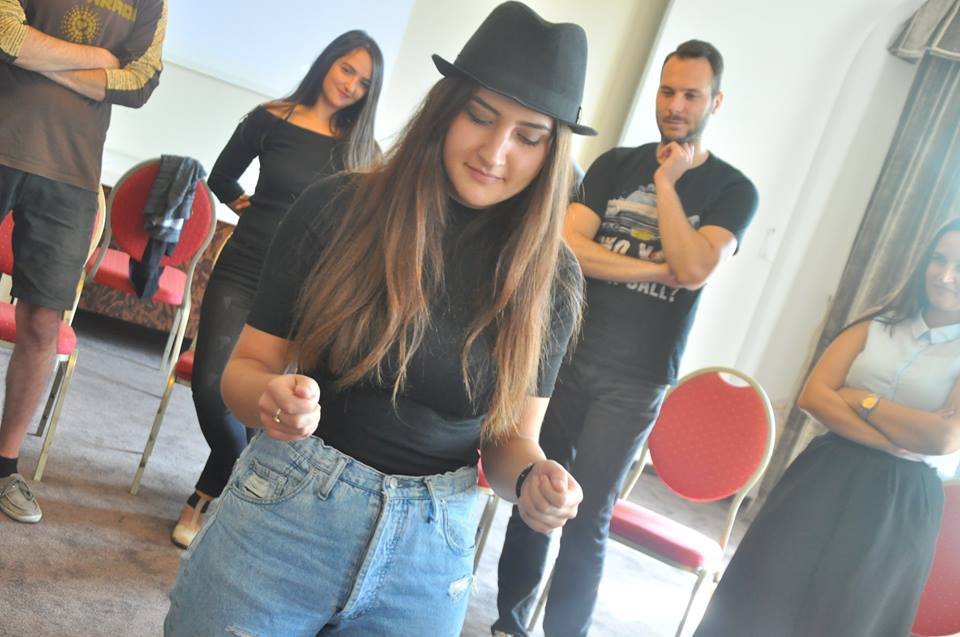 Center for Art and Community – Artpolis in support of CFD, organized a three-day workshop "Pediatric Theater Based Education"
Twenty-two selected participants from more than 80 applications from seven Kosovo municipalities have been part of this workshop, engaging with each other and the theater to bring about positive changes in the community.
This was accomplished with the involvement of director Zana Hoxha – Krasniqi and actor Lulzim Bucolli, both qualified trainers for "Theater Based Education" and community engagement in Art.
Participants learned about theatrical techniques for building forum theater performances, the discussion process with the public, and their use in communities. Young people and young people of this group express concern about the municipalities where they come to many phenomena related to the rights of marginalized groups, focusing on women's rights and gender-based violence.
Benit Avdyli participant, has expressed his gratitude for participating in the Training on Theater-Based Coaching Education "Everything was well prepared, the training has exceeded my expectations, we learned more than we have thought. The training was very successful and interactive. Zana and Lulzimi were brilliant by intertwining the pleasure, other activities and real life work, ensuring that the participants have clear and understandable all. Access and rapport with the participants has been wonderful. I really went through well and I got so much in such a short time. Thank you for the wonderful three days, I'm away with lots of knowledge and inspiration to use creative approaches. "
Rita Selimi, another participant, said, "I did not get up early with the dramatic arts and the idea was a bit challenging, but because of the willingness and support of Artpolis coaches and staff, as well as other peers I felt comfortable and enthusiastic to experience all the activities. The Training for Theater-Based Coaching Education with Peers is one of the best activities I participated in, because it has fully met my expectations. The initial reason why I applied for this training was to learn more about the theater, human rights, and to recognize young and new from different regions of Kosovo who share similar interests and who are passionate about social issues. Precisely through this training I have managed to get all of this.
The whole training module has been built in such a way as to gradually provide us with the ability to perform as an actor, present us with the way and the techniques of how to make a theater theater show and encourage us to discuss topics that affect the human rights field. In conclusion I can say that this training is indispensable for all those who are passionate about art; As far as I can, I have learned new skills, skills and friendships, and I believe I have been empowered to prove the way the forum theater is a means of bringing about social change. "
The youth and young people of this group were informed about the continuation of the project "Addressing Violence Against Women through Art and Commitment to the Community" with the New Youth Theater Festival in October / Youth Theater Fest. Each group will return to their municipalities with the knowledge and skills acquired to include more young people in this process, creating seven new performances that will be presented at the festival.
The trainees praised a project as frustrating as it enjoyed the fact for many reasons: Knowledge on theater techniques and their use to address community issues, getting acquainted with enthusiastic peers from other municipalities to make changes in the community.
You may also like