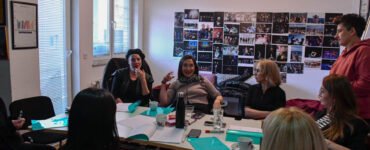 13.02.2023
The Resident Artistic Troupe of Artpolis together with the director Arlinda Morina – Liki, on February 13, 2023, began the creative process and rehearsals of the theater performance "Fefu and her friends".
"Fefu and her friends", written by Jules Aaron and Maria Irene Fornes, is a play that takes place in New England in the spring of 1935. The narrative takes the audience through an amazing day starting at noon and ending in the evening.
The theater performance presents women interacting with each other, and sharing their thoughts and feelings about life and personal challenges, including social concerns. The author portrays these characters as real women, in her dramaturgical style of realism in locations, characters and situations.
The actions of the theater performance demonstrate the daily power struggles of women in a society that is dominated by men. According to Robert Wilson, Fefu and Her Friends "challenges our preconceptions of life".
This performance is supported by the cfd.
#artpolis #cfd #art #community #center
You may also like