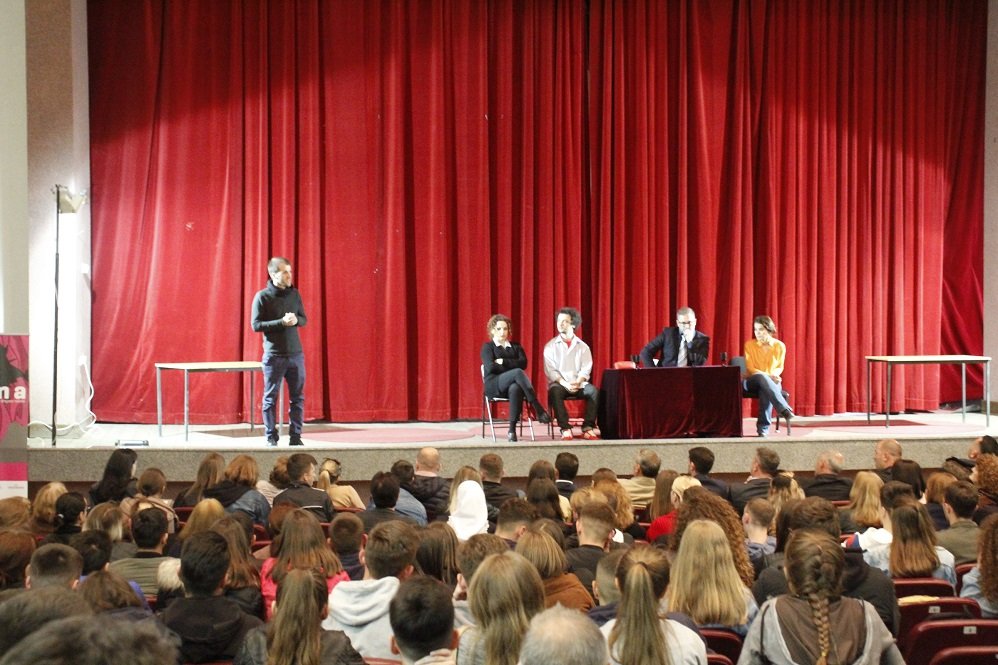 10.04.2019
The Istog Municipality, on April 10, 2019, opened the doors of the cultural center "Adem Jashari" to welcome the Theater Forum "Stigma – Search for Your Right".
This beautiful city surrounded by mountains and rivers, with greenery and fresh air but with a not so rich cultural and artistic life, in the heart of the city, from the cultural center, awakened by cheers and applause of the public.
The Theater Forum thrilled the audience of 200 with the beautiful performance of the actors. The audience interacted with maturity and interest in the open discussion after the performance, giving color and even more power to the play.
The subject that was treated created a sensible but beautiful atmosphere. Agron's light and typical Albanian humor, at the same time the antagonist of the play (actor Kushtrim Qerimi) won the heart of the audience as Mira's determination and tranquility (actress Anisa Ismajli) made the audience to appreciate and love her. The youngsters in love, Dren and Ana (Gani Rrahmani and Qendresa Kajtazi), with their beautiful play, reflected a pure, honest and open youth to society, and the audience worshiped them for it.
"The love of two young people, Dren and Anna, should not be prevented from Agron and should not be held hostage because of Mrs. Mira past; "Mrs. Mira is not guilty of what happened to her during the war; She is not a victim, but a heroine that continues to resist the prejudices and patriarchal mentality that holds in Kosovo," were some of the statements that were made during open public discussion.
War and awareness of society to seek justice for those who suffered sexual violence during the war, social integration and ongoing support to them was the message that was given by the moderator in the end of the play.
Director and moderator of the discussions: Lulzim Bucolli
Actor: Anisa Ismajli, Kushtrim Qerimi, Qendresa Kajtazi and Gani Rrahmani.
This show was created under the project "Protection and promotion of human rights in Kosovo through active civil society", an EU-funded project managed by the European Union Office in Kosovo under the European Instrument for Democracy and Human Rights, implemented by the Kosovo Institute for Policy Research and Development (KIPRED), the Group for Legal and Political Studies (GLPS) and Artpolis, in partnership with the People's Advocate Institution.
You may also like