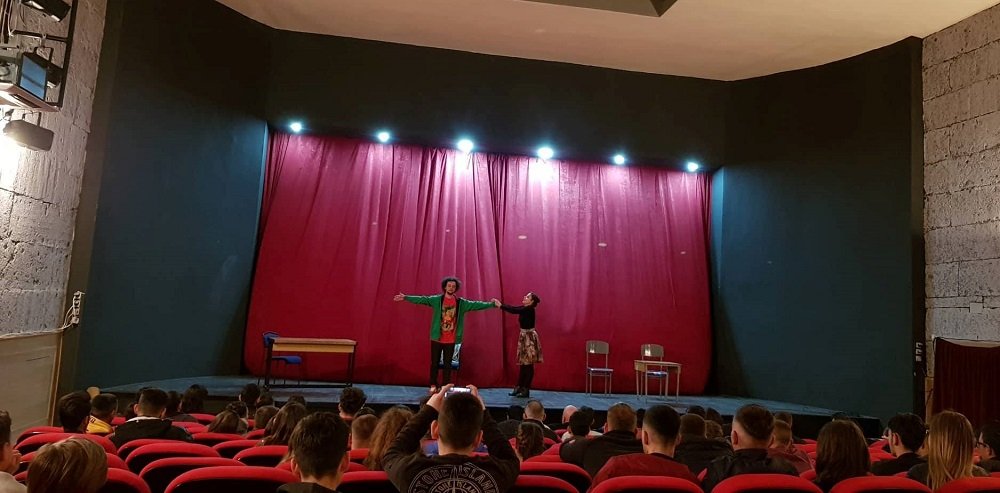 26.03.2019
Podujeva Municipality, on March 26, 2019, welcomed the Forum Theater performance "Stigma –Claim your rights" at the city theater "Avdush Hasani".
The performance addressed a sensitive collective theme that has affected nearly every country out of conflict, any girl, woman or family who survived sexual violence. This story that never fell asleep in the minds of those who happened to be, it's collective wage that has burdened men, women and children who have fired a community, and who are constantly seeking justice for all those who co-exist with this event.
"I have no daughter for your son" – were the spoken words by Agron (Anna's father) to Mrs. Mira when he realized that Ana loved Dreni, Mrs. Mira's son. Mira affected by his arrogance and bad treatment, but knowing that it stemmed from the patriarchal and prejudicial Kosovar mentality, faced him by standing proud and strong. "I'm not a victim, but I'm a survivor of the war and I do not want to point at me, just as you did to me. That's why I did not come to Kosovo for 20 years, but I see now that nothing has changed so far " with tears in her eyes and disappointed with the situation Mira opposed against Agron.
Emotions and curiosity followed the excellent performance of the actors. Interaction with the public and an open discussion after the show among students, activists, officers of institutions and actors gave even more power to the topic of the performance. Mrs Mira's unfair treatment (actress Anisa Ismili) by her former neighbor Mr. Agron (actor Kushtrim Qerimi), when she finally , after 20 years got the courage to come to Kosovo, creates tension but also raises awareness of the audience on  Agron's mistreatment and backward perspectives. Everyone joined with the thought that survivors of sexual violence during the war in Kosovo, should not be stigmatized but should be supported and integrated into society to enjoy a peaceful life like all do.
Director: Lulzim Bucolli
Moderator of the discussions: Daniela Markaj
Actor: Anisa Ismajli, Kushtrim Qerimi, Qendresa Kajtazi and Gani Rrahmani.
The performance in Podujevë / Podujevo was supported by Kosova Rehabilitation Centre for Torture Victims / KRCT.
This show was created under the project "Protection and promotion of human rights in Kosovo through active civil society", an EU-funded project managed by the European Union Office in Kosovo under the European Instrument for Democracy and Human Rights, implemented by the Kosovo Institute for Policy Research and Development (KIPRED), the Group for Legal and Political Studies (GLPS) and Artpolis, in partnership with the People's Advocate Institution.
You may also like