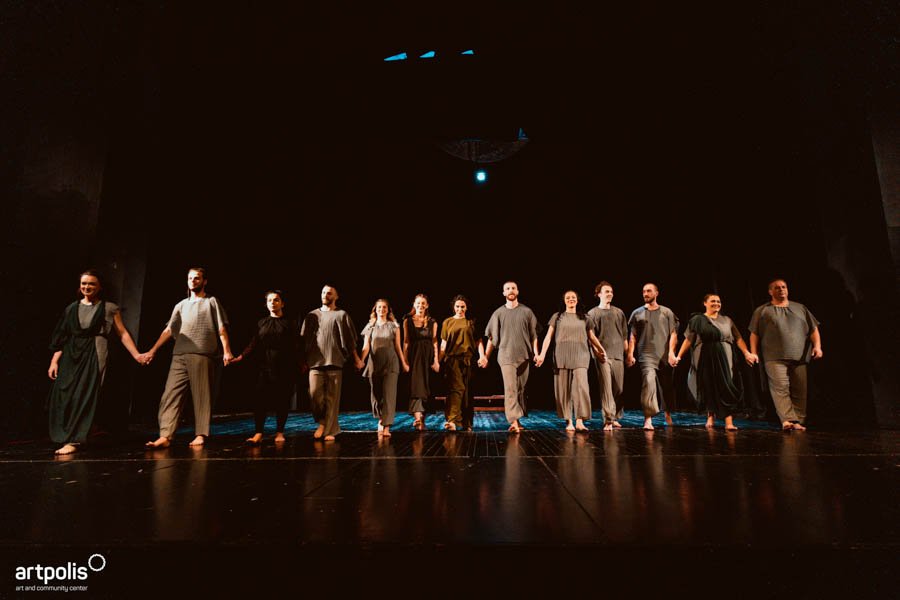 29-30.11.2022
The perfromance "The Haunted Land", authored by Shqipe Malushi and directed by Zana Hoxha, was presented in Peja and Gjakova as part of the "16 Days of Activism" global campaign.
On November 29, 2022, it was presented at the "Istref Begolli" Theater in Pejë, and a day later at the "Hadi Shehu" Theater in Gjakovë.These two presentations were attended by more than 320 people in the audience.
Haunted Land" is a performance based on Shqipe Malushi's poetry, evoking our collective memory about the absence of peace and confrontation with the war, which is a constant for Kosovar society throughout the centuries in particular, it is an impact on our intergenerational trauma.Performed in a unique experimental format in Albanian and English, by the director Zana Hoxha's performance creates a multidisciplinary synergy through Malushi's imagery poems, Robert Nuha's contemporary theater choreography, and Shpëtim Selmani's dramaturgy, experimental music with a combine source of traditional and modern elements and singing, as well as, video projections that create a new narrative based on our collective memory.
"The Haunted Land" through chronological acts describes one of the most important stages of Kosovars toward what they had dreamed of for centuries, freedom.
This activity has been supported by MKRS, cfd UNFPA, and the Directorates of Culture in Peja and Gjakovë. General Sponsor Buçaj SH.P.K.
Esad Duraki
Leonit Tetaj
#artpolis#unite#16DaysOfActivism#art#activism#womenrights#gjakova#peja#theatreperformance#HAUNTEDLAND#ZanaHoxha
You may also like