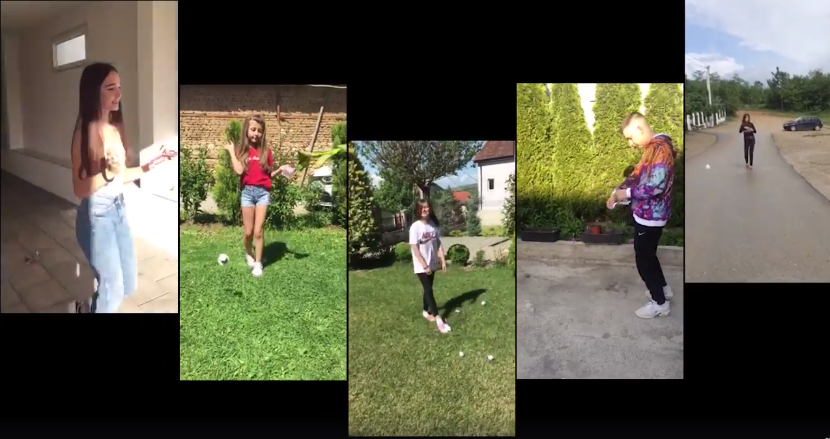 May 2020
During these months when the whole world was challenged by the Covid-19 pandemic, the ArtEd – Growing through Arts in Education project also faced difficulties in carrying out its activities. But still, despite the difficulties, we managed to achieve the goal we had, by gathering all pupils' members of theater clubs together to give a message and have fun with rehearsals, games and creativity with twelve champion schools of Pristina.
At this stage, Artpolis took the next step by adopting all the work with online activities so pupils during isolation could feel good and spend time with each other, realizing their dream of acting.
In coordination with professional trainers/mentors: Qendresa Kajtazi, Daniela Markaj and Edlir Gashi and the ARTED project team, we decided to start immediately with the second group of champion schools in Kosovo, including the establishing of clubs, lessons about theater techniques, keeping rehearsals, and creating performances.
The schools that started rehearsals during the second phase are:
"Zija Shemsiu" – Gjilan
"Zekrija Rexha" – Gjakova
"Zef Lush Marku" – Gjakova
"Emin Duraku" – Gjakova
"Ibrahim Rugova" – Obiliq
"Thimi Mitko" – Gjilan
The pupils of the theatrical clubs of these schools started working with a lot of energy and determination, offering us social awareness topics to address to the public. For us, these students were the inspiration to work and to support the creation of performances with themes that dealt mainly with human rights, with titles: "Do you think I'm guilty?", "Don't deny my rights "I want to Live differently", "Wait wait – you have friends", " Whispering of conscience ", " What do I want? ".
Under the supervision of professional trainers/mentors and the lead teachers of these schools, the pupils followed the online rehearsals and created six video dramas that appeared online on social networks and gathered a viewership that exceeds our predictions.
Within the training and rehearsals, there was also a presentation on the Canva platform, to teach students to design their own projects.
All this work was highly appreciated by media, local and international organizations, which did not hesitate to promote the ArtEd – Growing through Arts in Education project and the work done by the Artpolis team with champion school children, calling inclusion a success story of students regardless of ethnicity as well as those with disabilities in the name of art.
"This project is organized by Artpolis – Art and Community Center, with the support of GIZ Kosovo on behalf of the German Government."
You may also like