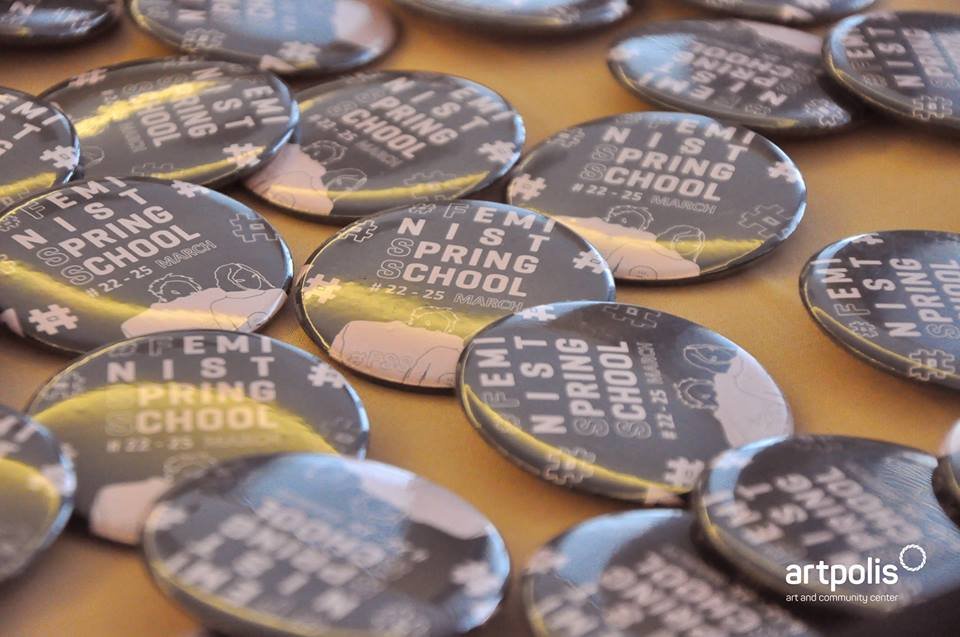 Throughout history, women across the globe have had to fight for security, livelihood and fundamental rights that were rightfully theirs. Generation after generation we have faced the disproportionate burden of a global economy based on our domination. The current situation not only in our region, but throughout the world shows an escalation of the ongoing assault on women's social and economic justice. In the era of emerging radical right-wing politics amongst many other issues, misogyny is becoming normalized, reproductive rights are being threatened, and hate crimes against women are growing.
In this context, Feminist Spring School provides a space for future feminist leaders to unite and create a common vision for the feminist movement in Kosovo and Serbia to combat such influences.
2018's 'Feminist Spring School' gathered women from Kosovo and Serbia to learn about feminism. The first part of this event took place in Pristina from 22-25 of March and the second part is expected to take place in Serbia. This school is organized by Artpolis – Center for Art and Community, an organization from Kosovo and 'Alternative Center for Girls' from Serbia. This is the third time that this school is organized by these two organizations.
Feminist Spring School is not a traditional organization – we can't call it a conference and we cannot say that it is a theoretical academic program. This school is designed in such a way that participants can engage in practical learning processes and explore more about themselves, their talents, and how their feminist future can look – all this by imagining a horizon full of co-operation which does not recognize ethnic and other socio-political barriers.
In this school, participants are introduced to feminists in different spheres: working in non-governmental organizations, in academic positions, breaking the barriers of past generations and simply put – feminists who have translated theory into action. With these links and inspiration, the participants complete the school leaving with a new sense of direction and confidence to move towards success and solidarity.
Part of this new direction is the joint initiative that is expected to be completed within the year. This initiative aims to combine experiences from both groups to initiate cooperation and interactivity between the two countries. The initiative is independent of the organizers and reveals the common experience and knowledge of this generation of the Feminist Spring School.
Moreover, during this edition a workshop was held to explain the role of women in security units. Within the workshop, some self-defense techniques were demonstrated so that young women gained the skills and confidence needed to protect themselves in case of violence.
During the school there were also lectures related to violence that women endure in times of conflict. Efforts were also made to understand the history of feminism in the Balkans and transitional justice and gender policies were also addressed. Part of the training was also dedicated to the women's movement from the perspective of Kvinna till Kvinna, which has supported this initiative for four years.
One of the participants from Kosovo, Lejla Leci, stated about the school, "…women are powerful without measure and we made sure to emphasize that by sharing stories, learning new concepts, helping each-other, embracing ourselves and thinking of new ideas to stand for our rights and protect what is ours."
And from Serbia, Izabela Đorđević, one of the participants said that "…empathy, understanding and the desire for a beautiful, equal and peaceful world was common to us, so I now tell everyone that my trip to Prishtina is one of the most important and most beautiful experiences in my life."
We stand on the shoulders of strong women of past generations – and yes, while it is true that we have more freedom – the ongoing struggle for equality is not over yet. Such initiatives build up solidarity and diminish the differences that women have with each other – by strengthening sisterhood across the borders.
By: Eurisa Rukovci
You may also like