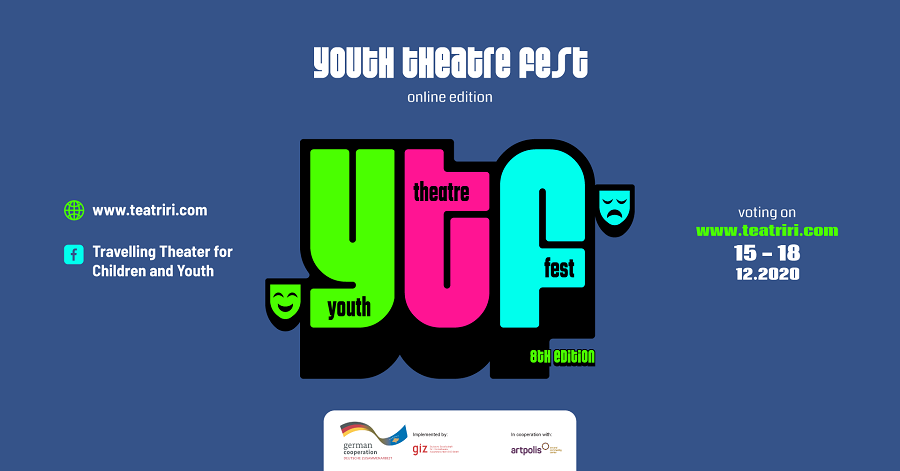 15.12.2020 – 18.12.2020
This year, due to the pandemic situation with Covid-19, the 8th edition of the Youth Theatre Fest held on 15th to 18th December, was organized differently.
Unlike previous years, when all theatrical pieces were performed in the theater in front of the audience and the jury, this year's festival took place virtually on the platform www.teatriri.com, through which the public had the opportunity to watch all competing 20 videos – dramas, as well as vote online. Whereas, the selected professional jury composed of: Ilire Vinca – actress, Dardan Kryeziu – psychologist and Kushtrim Shaipi – consultant, gave their evaluation through points.
The special feature of this edition was that, instead of theatrical performances, the festival presented video-dramas created in pandemic conditions, during isolation, from homes of primary school students, who are also participants of theater clubs in 20 champion schools in Kosovo. These video-dramas have emerged as a result of the dedicated and tireless work of students, teachers and 3 mentors of these clubs: Daniela Markaj – actrees & trainer, Qëndresa Kajtazi – actrees & trainer, Edlir Gashi – actor & trainer, and which were created within the project "ArtEd – Growing through Art in Education" supported by GIZ Kosovo, on behalf of German Government.
After closing of the online voting and evaluation of the professional jury, the festival also closed on December 18. Whereas, the announcement of the winners for the first three prizes as well as the Special Jury Prize, was made on December 21.
Prices:
First place: "Discrimination of people with disabilities" – Theatre Club of SHFMU "Xhemajl Mustafa" – Prishtina
Second place: "Bullying" – Theatre Club of SHFMU "Asim Vokshi" in Prishtina
Third place: "Don't deny my rights" – Theatre Club of SHFMU "Zekeria Rexha" in Gjakova
Special Jury Prize – "Wait, wait – you have friends" – SHFMU "Thimi Mitko" in Gjilan
Here you can see all the video dramas of 20 theater clubs of the champion schools of Kosovo: https://teatriri.com/
"This project is organized by Artpolis – Art and Community Center, with the support of GIZ Kosovo on behalf of the German Government."
You may also like