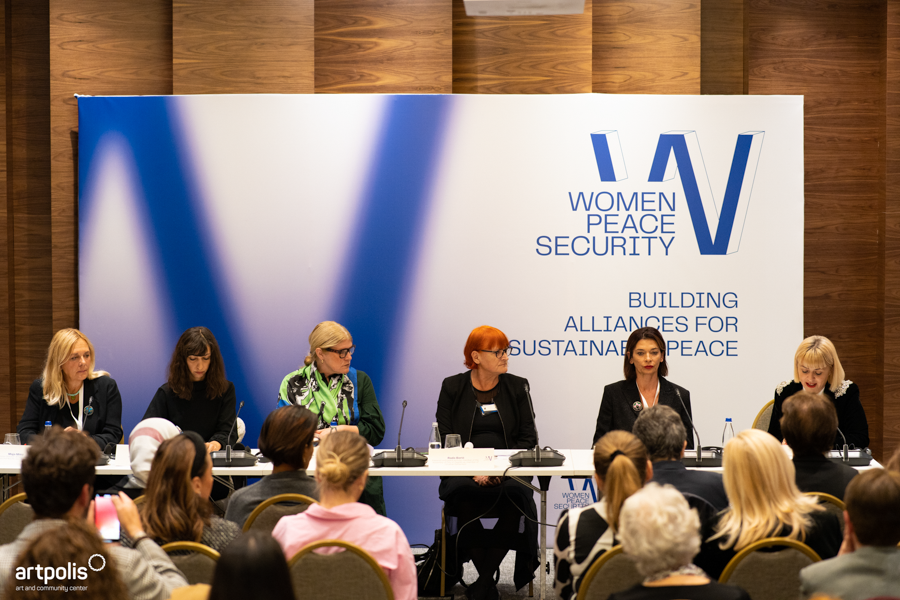 23.10.2022
The first edition of the Women, Peace and Security Forum, organized by the Office of the President, concluded, on October 23, 2022 with two activities coorganised with Art and Community Center – Artpolis at Klan Arena.
The panel discussion, "The role of women artists in peacebuidling" and the theater performance, "Haunted Land " were presented on the last day of this forum, an initiative of her Excellency Dr. Vjosa Osmani Sadriu, President of the Republic of Kosovo.Prominent feminist artists and activists were part of the panel discussion moderated by the executive director and founder of Artpolis and the FemArt Festival, Zana Hoxha.
Croatian activist Rada Borić, Manifesta curator and founder Hedëig Fijen, artist and activist Ema Andrea, actress and director Maja Mitić, and director and playwright Blerta Zeqiri took were last night's panelists.When activism is joined by art then it becomes an unstoppable tool that has the power to penetrate any space and break national and social barriers.
They reiterated the importance, impact and role that art and activism play. According to them, when art is presented and created by women, then it is even closer to society. Each of them has witnessed the impact of their artistry.
With their events and experiences, they inspired and motivated the attendees to deal even more with art, or at least to support it.
#WPSRKS2022#artpolis#paneldiscussion#activism#feminist
You may also like