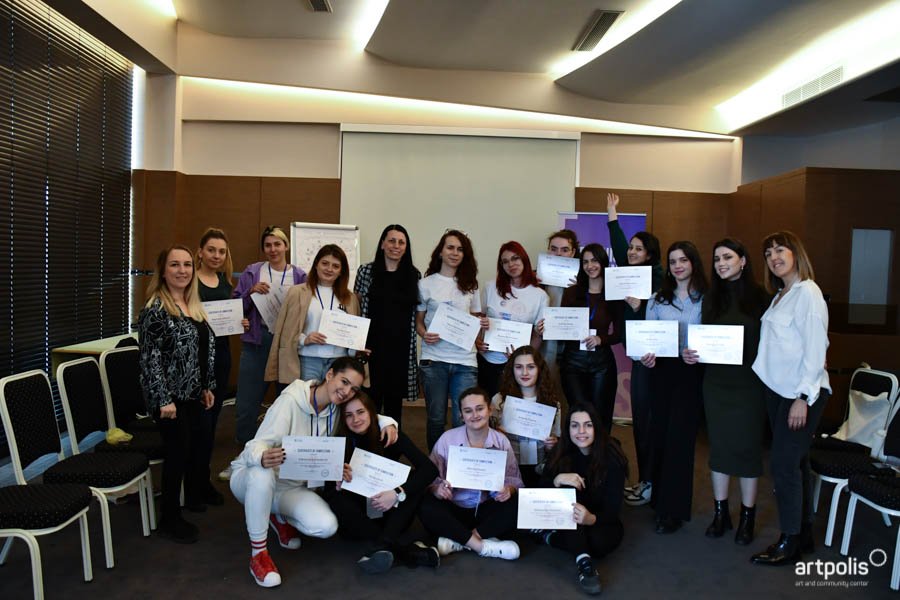 30 march – 2 aprill, 2022
Young women building peace" was the motto under which took place the first part of the Feminist Spring School 2022, gathering 19 girls from Kosovo and Serbia from March 30 – April 2, 2022, in Prishtina.
Initiatives such as the Feminist Spring School undoubtedly play a key role in building a narrative without political distortions within the larger picture of peacebuilding between the citizens of Kosovo and Serbia. This is especially true when we consider the impact of politics on the daily lives of the citizens of both countries, the stagnant situation in the dialogue process between Kosovo and Serbia and the whole effect that this situation has on interethnic relations between them.
Since 2014, every year, one edition of the Feminist Spring School is held in Kosovo and the other in Serbia. The Feminist Spring School program is designed to include activist and feminist trainers and guests, from Kosovo and Serbia, who present their work to the participating girls. And this year's program was no exception.
During the four days of our (informal) school / seminar that brought together young women from Kosovo and Serbia, we addressed a variety of topics, engaging participants in hands-on learning processes and exploring more about themselves, their feminist future and the peacebuilding process.
Topics such as 'Road to recognition of the status of survivors of sexual violence from the recent war in Kosovo' followed by others such as 'history of feminism in Kosovo', 'law and feminism', 'women's contribution to peace and security', 'our personal limits' and 'feminist security and building a resistance movement' were the topics that enriched the program of the first part of the 2022 Feminist Spring School.
Well-known names of activists and representatives of institutions, including Ariana Qosaj Mustafa, Linda Gusia, Donika Emini, Kadire Tahiraj, Yllka Soba and Nora Prekazi lectured on the above topics.
Creating a safe environment for participants to express themselves and the opportunity to do so in their own language are among the core principles of the Feminist Spring School that were definitely not lacking this year either.
Below we will list some short sentences of the evaluative answers to the question "What is the feeling with which you are closing the Feminist Spring School?":
"A very positive feeling for the fact that we were honest and had a healthy conversation; I had a great time these days and the best part was that I met a lot of good people and was informed about a lot of things that I didn't really know." – Marigona
"It's a very good feeling. We heard and learned everything and realized what we had come for – we began to connect with each other; we began to socialize and erase the boundaries that were imposed on us. We have already started working on this and we will be further empowered, I believe that what we have started will continue. " – Bojana

"As important as the lectures and knowledge we receive are, so important are the new friendships we have created. I feel very good that I was among you and I had the opportunity to meet new friends from Serbia, I had a great time and I really hope that this society will last beyond this activity. " – Beneta
"I have a very positive impression and I am very happy to have participated in this School. I definitely realized that some of the prejudices we had were really prejudices. I can not wait to participate in the second part of the School in Serbia" – Isidora
The project "Young Women Build Peace in Kosovo and Serbia" is implemented in cooperation between Artpolis – Art and Community Center and the "Alternativni centar za devojke" while supported by the Kvinna till Kvinna foundation.

#artpolis #art #community #feministspringschool #fss #feminist #azd
You may also like