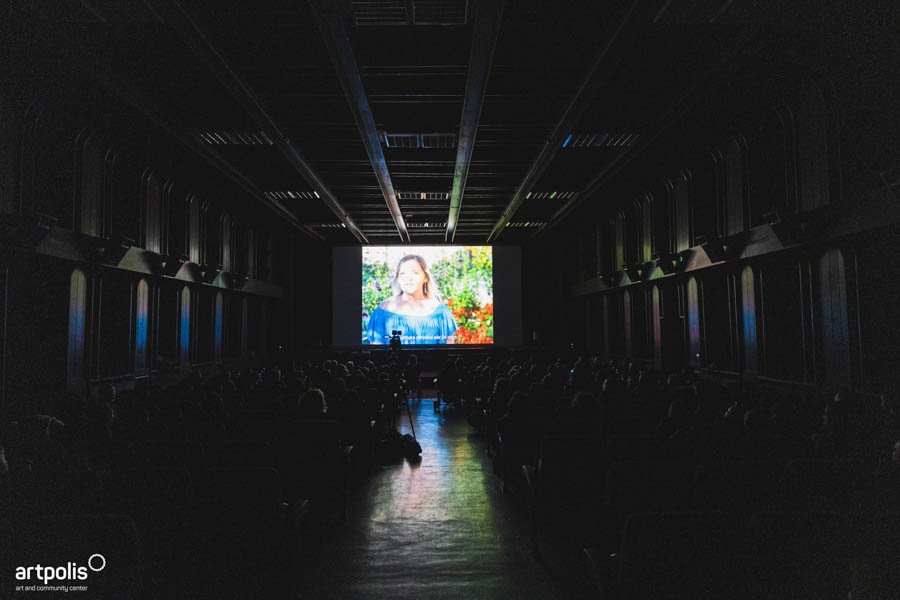 09-10.12.2022
On December 9, 2022, was given the premiere of the documentary film Biba May – "No More" at Kino Armata. And on December 10, it was presented in Pejë, at the "Jusuf Gërvalla" Cinema, concluding the activities of Artpolis in the framework of the global campaign "16 Days of Activism".
BIBA MAY – "No More" is a story of the empowerment of women with disabilities and a model of courage, determination, dedication and love! At its premiere, many local and international personalities were present at Kino Armata, including the Minister of Culture, Hajrulla Çeku.
Biba, who suffers from progressive muscular dystrophy, despite her challenges, setbacks and losses and never stopped trying to make a difference for people with disabilities.
Over 250 people were present at these two presentations of the documentary Biba May – "No More".
Written and produced by Shqipe Malushi, Executive Producer and Art Direction: Zana Hoxha, Director: Arlinda Morina, Contributing Director: Burim Haliti, Mahiema Anand, Arzana Pireci, and Jeton Pireci, Director of Photography: Michael Stoeger, war footage and video clips : Nafis Lokvica, Editing: Arlinda Morina and Berat Kryeziu, Makeup and Costume Design: Ganimete Sava, Drone: Visar Selimi, Music and Original Song: Memli Kelmendi and Shqipe Malushi, Vocalist: Klea Dina, Music Selection and Sound: Samer Agolli, Colors: Rron Ismajli and Design: Arber Matoshi.
Donors and Supporters: Joseph Handleman Foundation "Besoj ne Ty", (USA), Global Albanian Foundation, (USA), Ministry of Culture, Youth and Sports of Kosovo; SIGMA-Security Group from Vienna, Artpolis-Center for Art and Community, as well as OPDMK, Kino Armata, Anibar-Kino "Jusuf Gërvalla", Peja, and Municipality of Peja-Department of Culture.
This event/project was also supported by the Office of the President of the Republic of Kosovo.
General Sponsor: Buçaj SH.P.K.
#artpolis #unite #16DaysOfActivism #art #activism #womenrights #prishtina #peja
You may also like