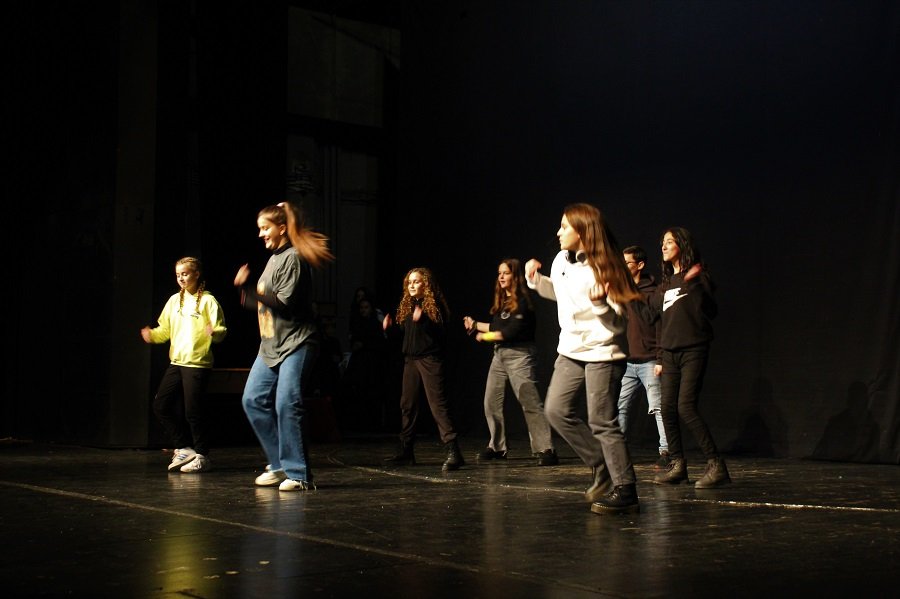 30.11.2021
On November 30, the City Theater "Hadi Shehu" in Gjakova hosted four forum theater performances of theater clubs of champion schools from this city.
It was SHFMU "Selman Riza" that opened the cycle of presenting performances with the forum theater performance "Ballerinas and Gangsters"
Under the mentorship of actor Flamur Ahmeti and the facilitation of Armend Ballazhi, the students of this school brought to the public an interesting performance addressing the topic of bullying and the rivalry between the two dance groups.
Although they share a common class, the students are divided into two groups, the ballerinas and the gangsters. Their clash intensifies when the two groups face each other in a dance competition, the winner of which would secure a trip to Brezovica. But, focusing more on the opponent, to reduce each other's talent and bullying both groups lose the race, not winning any of this confrontation.
After the performance, the curious public asked many questions and commented about the characters and the play itself, to emphasize more the negative phenomena and to reflect on finding a solution to eliminate those in our society.
"This project is organized by Artpolis – Art and Community Center, with the support of GIZ Kosovo on behalf of the German Government"
You may also like